POS Software is now a need for businesses that exist. With diverse competition within every market and the world moving more towards technology, cash registers are far outdated now. The better, more secure, and faster version of checking out now is a good POS software.
What Is POS Software?
POS (Point Of Sale) is literally the point where your business makes a sale. The term generally refers to the checkout/order counter of a business where customers visit to finalize a sale.
A Point Of Sale System refers to the setup your business uses for processing sales. This means how you treat customers at the counter. Is it a self check-out? Is a cashier involved? Or is it a cashier with POS Hardware/Software?
A POS Software is a software solution for Point Of Sale needs. The point of sale Software is run by a cashier and helps them process sales.
How Does a Transaction Work With POS?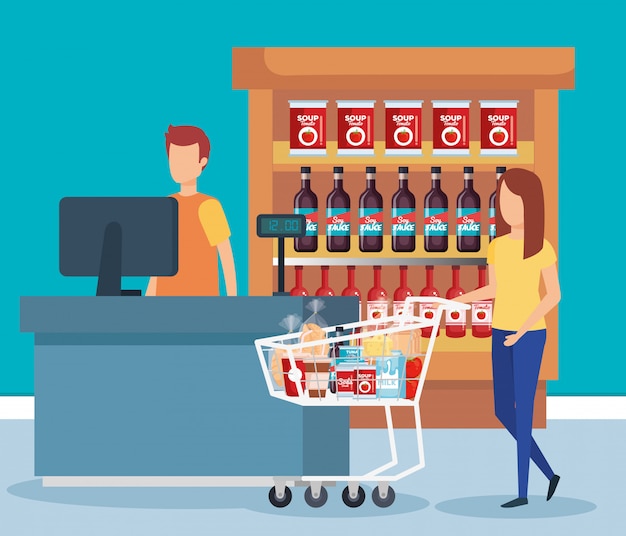 POS Software work with the help of a cashier. The software is run on a computer device (commonly PCs), and are mostly integrated with some kind of POS hardware.
A typical retail mart sale through a POS is processed in the following way:
The customer enters the check out queue with items they need to purchase

The cashier either uses a Barcode Reader to identify each item or manually adds all the items in the POS software run on a PC

The POS creates a virtual cart and fills it with all the items the cashier has added

When all items are added, the POS displays the price of all the items in the cart

The customer pays the mentioned amount, after which the POS system generally prints a receipt for the customer

During printing, the point of sale also creates a virtual record of the sale for business' use
A modern POS can enhance this process with the following additions:
The virtual cart explicitly shows all items, their details, quantity, cost, discounts, and tax. At the same time, it also provides options for editing the cart by adding or removing items within

More payment options are provided for customers' ease such as Spilt Bill or Credit Purchase. POS hardware also enables Credit/Debit Card transactions

The point of sale software provides the cashier options for customer profiling. This can collect the customer's data for better services ahead or initiate loyalty programs

Good POS systems enable multiple receipt options such as B2B invoices or A4 format receipts
All these benefits urge businesses to invest in a POS software. In summary, it helps them ease check out processes, ensure no margin for error or theft, efficient data gathering for better management, and keep track of inventory.
Types of POS 
Point of Sale Softwares are mainly of 2 types: Desktop/On Premise POS and Cloud POS
What is POS Software Desktop?
On Premise or Desktop POS are very commonly used by businesses. This type of POS Software is installed on the company's POS manually, thus the name Desktop POS. On Premise POS are usually paid with a one-time payment.
Pros:
Faster Processing than Cloud POS
Ownership of Software 
Safer without Remote Access
Cons:
No Remote Access
Only runs on a single device
Prone to data loss if PC destroyed
No integration to branches
What is POS Software Cloud?
Cloud POS is the latest POS type of software. Cloud point of sale, as the name suggests, is run on Cloud. This is a technical term of running remotely, as in the software is installed on a server of the POS provider and the user accesses their POS by their own unique URL. Cloud POS system are mostly dealt with monthly payments.
Pros:
Runs on multiple platforms/devices
Remote 24/7 Access
Unique and Safe URL
Secure Data on Cloud
Multiple Stores Integration
Frequent Software Updates
Cons:
More chance of internet hacking than with Desktop POS
No ownership
Currently, Cloud POS is taking over Desktop POS in the global business industry now because of its many useful features. If you're deciding between point of sale systems, investing in a Cloud point of sale would be the best option!